Ski rental Peppi in San Cassiano Alta Badia Your professional partner for ski rental & ski servicing
Whether ski rental or ski service: We are your partner for rental in San Cassiano in Alta Badia. We want to make your rent experience something very special. How does it work? Visit us at our rental shop very close to the valley station in San Cassiano and convince yourself of our range, our extensive services and our passion for skiing and winter sports.
We, Peppi and Cecilia, have been running the ski rent in San Cassiano for many years. Our ultimate goal is that our guests are completely satisfied with their equipment and that they experience unforgettable days in the snow of Alta Badia. For this reason you will find an extensive range of skis, snowboards, ski boots, helmets, toboggans and everything else you need for your winter holiday.
We look forward to seeing you in San Cassiano.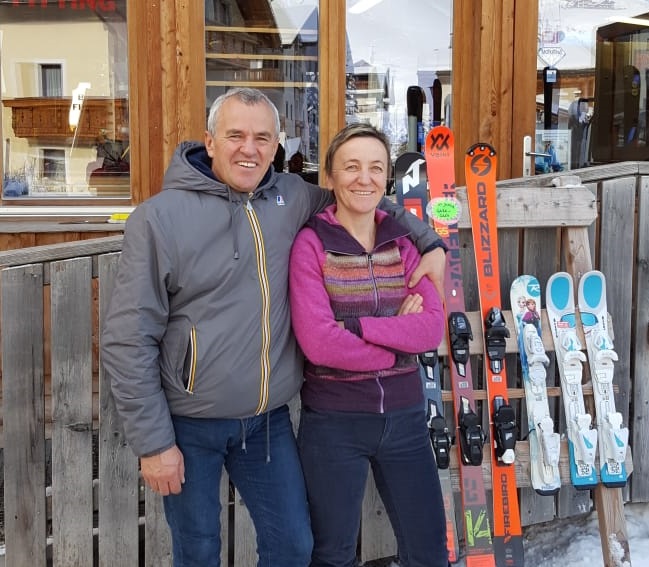 Many benefits if you book online NEW: free cancellation possibility
Use the practical option of pre-booking your sports equipment online. Benefit from the following advantages in our online rental in San Cassiano Alta Badia.
Best price guarantee: When booking through our online rental, you get the equipment at the best price
Faster processing: The rental process is faster and you get to the slopes earlier
Flexible rental period
Last but not least: get the equipment you want!
High quality ski rentalBest advice, fair prices and a big heart for families
Ski Peppi is known for highest quality in equipment and ski service but also for an excellent price-performance ratio.
Families with children are particularly important to us. All young skiers and snowboarders up to the age of 14 who rent their equipment from us receive a free ski helmet for the duration of the rental. With us, the children get the same attention and time as the adults: ski boots and skis are selected based on skiing ability. There are also race carvers and sporty ski boots for very good young skiers.
Ski Peppi offers you the best offers for magic moments in the Alta Badia ski area in the heart of the South Tyrolean Dolomites.
Hygiene
We pay great attention to high hygiene standards. All rental items are disinfected after they are returned.
Pick-up the day before
We want to ensure that you have a relaxed start in your winter holidays. Therefore, we give you the possibility to pick up the equipment the day before from 3 p.m.
Personal advice
In our rental, we attach great importance to personal advice on all questions relating to winter sports. Just talk to us.
The latest models
We have the latest top models of popular brands. Therefore, you always have the possibility to ski with models form the current season.
Location at the ski lift
The ski lifts and slopes of the Alta Badia ski area are only a few meters away from us.
Flexible rent period
You pay for your rental at the end of the rental period. This means that the equipment can be returned earlier and we only charge the days from the first day until the return.
Leading Ski Service & Rent in San Cassiano
Leading Ski Service & Rent is a certificate that only a few ski rentals receive. We are the only one in San Cassiano.
Leading Ski Service & Rent certifies the quality of the services and materials offered in a ski service and rental shop. A company only receives this award after a strict recognition process.
A leading ski service company only has trained employees who can advise customers in detail on all questions relating to winter sports. In addition, a detailed service order is created for every ski service. Therefore, the skis are sharpened so that your very personal needs are met.
We do all of this so that our guests are completely satisfied.
We offer you a large selection of ski brands
We want to offer the right winter sports equipment to everybody. Therefore, we have a wide range of different brands in our ski rental in San Cassiano.
ATOMIC - BLIZZARD - DYNASTAR - FISCHER - HEAD - KÄSTLE - NORDICA - ROSSIGNOL - SALOMON - VOLANT - VÖLKL
New skis in 2021/22
This winter we are also stocking our range with the latest ski models available on the market. You can see a small selection of these innovations below. You can find more in our section on ski models.
ATOMIC Redster
An agile ski, equipped with Servotec for fast, but perfectly controlled skiing. Absolute stable.

ROSSIGNOL Hero Master
The technique comes from the Ski World Cup, but you do not have to come from the World Cup to ski it.

VOLANT Champagne
The new Volant Champagne: elegant and sporty, like our female customers!

Kaestle DX 73 - WOMAN
The legendary VOGUE concept from Kästle is coming back! Ski flex and assembly point are perfectly tailored to women. The designs are also designed accordingly: by women, for women.

Kaestle KX66 - Mini Edition
Fun meets high quality! The KX66 with a natural wood core, Hollowtech 2.0 and robust surface is a real Kaestle for our loved ones.

Skiing in Alta Badia Enjoy the concentrated power of winter with the sports equipment from Ski Peppi
A wonderful panorama of the Dolomites, perfectly groomed slopes and a cloudless sky - this is what a dream day of skiing in Alta Badia looks like.
To make your vacation time an unforgettable experience, you also need the right ski and snowboard equipment. Ski Peppi in San Cassiano is your dependable partner for this. At our ski hire shop, very close to the "Piz Sorega" valley station, both beginners and advanced skiers will find the right ski equipment.
For the first attempts on the snow, we have lightweight entry-level models. Furthermore, we have medium level skis with easy turning and easy handling. In addition, professionals and fast skiers will also find a large selection of high-performance skis. If, despite detailed advice, the equipment does not meet your expectations, you can come to us and exchange the material.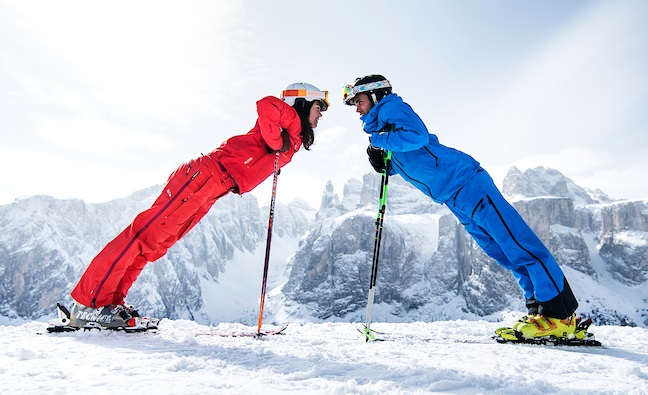 2 x Ski Peppi 2 locations in San Cassiano Alta Badia
Main hire shop
Str. Berto 85, right at the PIz Sorega cable car
Second shop
Str. Pecei 2 (small rental shop and laboratory)